Ocean Walk at North Campus
Hearthside Townhomes
Shorewalk Collection Single-Family Homes
Castillo del Sol Special Needs Apartments
The Vines at Riverpark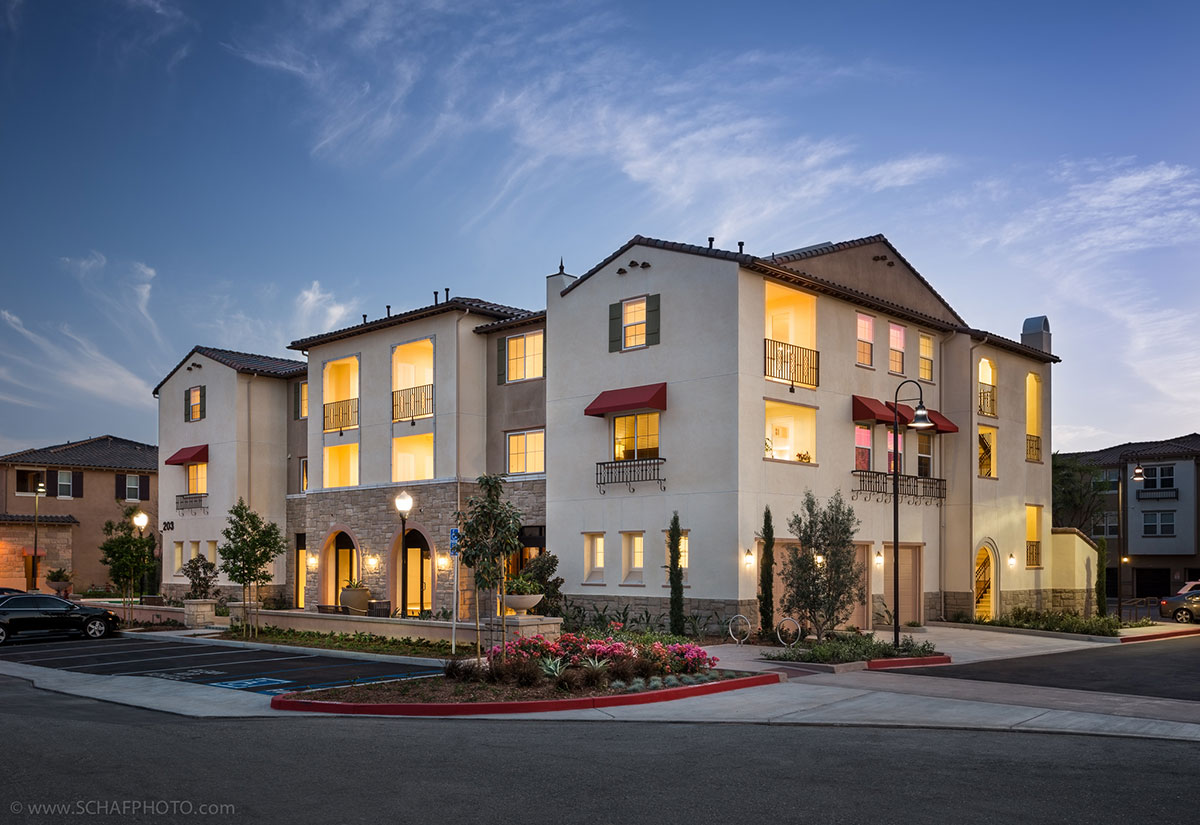 Village Commons Mixed-Use Apartments
Terraza de Las Cortes Multi-Family Apartments
Paseo Nuevo Multi-Family Apartments
Soho Apartments
Paseo de Luz Apartments
Chapel Lane Senior Apartments
Oakwood at Santa Paula Senior Apartments
Orchards at Santa Paula Senior Apartments
60 California Street
Ventura Orthopedics
Heritage Square Historic Homes
Santa Paula Historic Agricultural Museum: The Santa Paula Mill and Depot
The Station at Los Alamos
Ocean Walk at North Campus

Ocean Walk is a master planned faculty housing community located at the University of California, Santa Barbara. In 2016, we completed the construction of Phase 3 which consisted of 30 LEED® certified detached single family homes for a project construction cost of $13,000,000 (project was required to use prevailing wages). We were selected by the University to build this project under a prequalification process with constructability, value engineering and finish selection suggestions to assist the client in bringing the project within budget while still maintaining the quality UCSB expects.

Hearthside Townhomes

Hearthside is a 48-unit townhome community located in Ventura, CA. We were selected as the developer's construction partner whereby we provided general construction services including pre-construction (constructability, value engineering and finish selection suggestions) as well as construction services for approximately $8.5 million. Our unique single-level floorplans include a unified living and dining space, creating a cozy central area in each home. Our kitchens are designed to complement the chef, offering double sinks and options of cabinet and countertop finishes. Attached porches or decks off every home allow our owners to take advantage of the beautiful mild climate of Southern California. Luscious common gardens create walkable green space and enhance neighborhood walkability. A central fireplace, barbeque area and picnic tables encourage lively community gatherings.

Shorewalk Collection Single-Family Homes

Shorewalk Collection is a new 69 home single-family neighborhood which adorns the trendy Riverpark community. The community boasts Craftsman, Cottage and Spanish influenced exteriors and these homes range from 1,977 to 2,364 square feet. With open floor plan living and dining, Shorewalk Collection has been specifically designed to allow for a spacious sophisticated lifestyle. Featuring nine elevations with and three floor plans, this chic new single family home community has a variety of elevation and floor plan choices designed to be pre-selectable or customizable to suit your needs. Shorewalk Collection is within walking distance to The Collection at Riverpark, a 600,000 sf open air mall with notable anchor stores and restaurants including Whole Foods, Target, REI, H&M, Century Theaters and Lazy Dog. We provided a turkey development through management of entitlements, Bureau of Real Estate processing, interior design, preconstruction and construction, and overseeing all sales and marketing. The development had a construction budget of $23 million and is currently sold out and is scheduled to be completed in April, 2017. Please visit www.shorewalkcollection.com for more information about the project.

Castillo del Sol Special Needs Apartments

CDS was an $11.6 million construction project that created a 3 story, 40 new efficiency apartment units and support services for extremely low income individuals with special needs. This project was sustainably built and received a Green Point Rated Certification. Through its high performing Housing Choice Voucher program, the public-private partnership between McCarthy and the Housing Authority of the City of San Buenaventura (HACSB) provided long-term project-based voucher rental assistance subsidy to finance the construction and ensure long-term affordability to those earning less than thirty percent of the area median income. The partnership also received a competitive award of 9% Low Income Housing Tax Credits from the California Tax Credit Allocation Committee that was used to fund the construction. McCarthy partnered with HACSB, Montecito Bank & Trust, National Equity Fund, and Main Street Architects to create a new, energy efficient, accessible, and affordable housing development to add to the city's dwindling stock of deeply affordable housing. We acquired the land, retained and oversaw all design and construction consultants and provided general construction services to construct the project. Our services included entitlement, pre-construction (means and methods suggestions, constructability, value engineering, and finish schedule suggestions).

The Vines at Riverpark

The Vines at Riverpark is a luxury townhome development located in the trendy Riverpark neighborhood of Oxnard, CA. Located adjacent to The Collection Shopping Center, this community brags walkability and elegant urban design. McCarthy was selected by the ownership group, Corona Riverpark LLC, to provide preconstruction and general construction services for the initial 80 townhomes (known then as Promenade Townhomes), however, due to the success of this project, we were retained to build and additional 84 townhomes called Luminaria Townhomes. The two projects were combined and renamed The Vines which totaled 164 attached 2-3 bedroom luxury townhomes. The Spanish and craftsman elevation designs by William Hezmalhalch Architects blend traditional architecture with modern interiors which meld perfectly into the new and hip neighborhood. Shortly after construction completion and full lease up, Champion Real Estate Development Co. in Los Angeles purchased The Vines at Riverpark from Corona for a total $55.5 million. This was a total of $338,628 per unit, the highest price paid for a property of at least 100 units in Ventura County in about a decade. Talk about a successful project!

Village Commons Mixed-Use Apartments

Village Commons is a beautiful Early California inspired design by KTGY Architects for a new luxury mixed-use development constructed by McCarthy. We provided preconstruction and construction services for a private developer. The project consisted of a three story 12-unit apartment building with retail space on the first floor in the new master planned community known as Village at the Park in Camarillo, CA. These 2 bedrooms/2 baths and 2 bedrooms/2.5 baths units have beautiful open floor plans. Each unit is uniquely different with gorgeous upgraded kitchen with granite counter tops and stainless steel appliances. They all have an attached two car garage with washer and dryer hookups.

Terraza de Las Cortes Multi-Family Apartments

After successfully completing the 72 Paseo Nuevo Apartments under a public-private partnership, we were retained by our affordable developing partner, the Oxnard Housing Authority, to provide preconstruction and construction services for an additional 64 apartments with community room and offices. McCarthy worked hand in hand with DiCecco Architecture and the Oxnard Housing Authority to provide preconstruction, design consulting and construction services to design and build these beautiful two and three bedroom apartments for low income residents located in Oxnard, CA. This project received a Green Point Rated certification.

Paseo Nuevo Multi-Family Apartments

Acting as the private developing partner in a public/private partnership with the Oxnard Housing Authority and Las Cortes, we acquired an infill 5 acre site with substandard housing in Oxnard, CA. After providing positive temporary and permanent relocation assistance to existing tenants, we scraped the site and proceeded to develop, entitle, design and build 72 apartments. This project is located less than 2 miles from the Pacific Ocean and amenities include a multi-purpose community center with plaza area and BBQ, property management office, craft room, and technology room with the ability for Paseo children to use internet, do after school homework and create movies with the iMac movie maker. With DiCecco Architecture, we thoughtfully designed the unit interiors with faux hardwood floors, granite countertops, Energy Star appliances, energy efficient lighting, water saving water fixtures and stainless steel sinks and either a private balcony or patio comes standard in each unit. This project included twelve Net-Zero energy buildings, which means buildings with zero net energy consumption and zero carbon emissions annually. Traditional buildings consume 40% of the total fossil fuel energy in the US and European Union and are significant contributors of greenhouse gases. The zero net energy consumption principle is viewed as a means to reduce carbon emissions and reduce dependence on fossil fuels. The project received a Green Point Rated certification for its sustainable design and construction efforts. Local community service providers include interaction with the Police Athletics League who provide after school leadership and athletic programs for Paseo kids along with City Corps, a local Oxnard town keeping program where young adults learn pride of ownership and by maintaining the property and landscape.

Soho Apartments

The Soho Apartments was a market rate project that was subject to the housing crisis of 2007-2008. It was purchased at a discount by SOHO Associates, LP, an affordable housing developer, and McCarthy was hired to assist with preconstruction services to value engineer the project into a more affordable design. Mainstreet Architects and Planners provided complete design services and worked closely with us to find a reasonable way to maintain quality of a market rate product at an affordable price. We were able to value engineer approximately $400,000 off of the project and completed the construction of the building on schedule and within budget. The building maintains a modern chic design with community courtyard on the second floor deck. • Unique multi-color masonry structural walls. • Concrete podium deck with garage parking at grade and (12) 2 story homes above. • Vertical pre-finished galvalume metal siding. • Received a Green Point Rated Certification. The SOHO Apartments, owned by SOHO Associates, LP and managed by the Housing Authority of the City of San Buenaventura, offers qualified employees of the City, County and Ventura Unified School District a preference when applying to live at SOHO. This building's goal is to promote affordable housing for Ventura's workforce. A central court with a play area provides access to 7 two-bedroom and 5 three-bedroom units which sit over secured parking and a ground floor community space of 750 square feet. In the spacious townhome units, large windows provide sparkling natural light and hillside vistas above the flow of a vibrant neighborhood. The Ventura Avenue area is experiencing a renaissance in modern housing design and the arts-another plus is the location has easy access to the freeway, library, shopping and markets. "We have found the staff at McCarthy Companies to be very cooperative, easy to work with and the finished work product has been excellent. Their constructability review and value engineering resulted in $400,000 in cost savings to the project." – Loretta McCarthy, COO, HACSB

Paseo de Luz Apartments

Paseo de Luz or "Path of Light," is a special community that consists of 24 new rental homes for adults with chronic mental illness and an onsite resident manager's unit. The developer, CEDC, in conjunction with service provider, Ventura County Behavioral Health, aimed to support residents in retaining tenancy by helping them to "succeed in their wellness, reduce hospitalizations, reduce incarcerations, increase employment, and successfully reintegrate into the community." This was a HUD 811 project, specially financed by the Federal Government for adults with mental illness. McCarthy was hired to provide preconstruction and construction services for this community. The design of the buildings is influenced by the Prairie Style architecture of Frank Lloyd Wright in the early 1900's but using modern materials such as fiber cement panels, cement plaster, and masonry veneer. Each one-bedroom apartment has a kitchen with a full-size range and refrigerator, sink, washer and dryer, and sufficient cabinet and counter space. The living and dining area will provide adequate space for living and dining conditions and ample closet and storage for residents. The community also has a building available to residents for social activities. Paseo de Luz is an energy efficient building and is certified Green Point Rated.

Chapel Lane Senior Apartments

McCarthy provided turnkey development services including acquisition and entitlement for a three story senior community with 36 senior apartments, community center and offices. Chapel Lane Senior Apartments was developed with Federal housing financing. The property utilizes the Low Income Housing Tax Credit Federal housing program to make rent affordable to lower income tenants.

Oakwood at Santa Paula Senior Apartments

The Oakwood Senior Apartments in Santa Paula, CA, designed by Fountainhead Architects, were completed in March of 2016. McCarthy was hired as the Construction Manager to help the Santa Paula Housing Authority (SPHA) oversee the development and construction of the community. Through our guidance we assisted in keeping the project on budget by providing pre-construction (constructability, value engineering and finish selection suggestions) and overall construction management services while overseeing the general contractor. The existing site had an old abandoned and boarded up church building which had to be abated and demolished prior to construction by the SPHA. The removal of abandoned/vacant properties reduces community blight and makes neighborhoods safer. Since opening up the development, public safety officials have without question given "thumbs up" on the positive impact to the neighborhood. The site is 0.38 acres in size and located at 125 South Oak Street, in Santa Paula, CA. On this site we oversaw the construction of eight 642 square foot one story senior apartments in two buildings along with a one story 614 square foot community building. Each residential unit has a private rear yard with a concrete patio enclosed with vinyl fencing/gates. The site is landscaped with drought tolerant plants and trees. The senior residents at Oakwood have an improved quality of life thanks to this development. They have access to a community room on site which is available for health and wellness opportunities, Wi-Fi connectivity to stay connected with current events and a place of connection for social gatherings and interaction which fosters a true sense of community among all residents. Moreover, being active adds dramatically to improving the quality of life for each occupant. The total budget for this Project was $2,715,000. Our client received loans and grants from the following entities; Ventura County HOME funds ($276,378), Ventura County Housing Trust Funds ($250,000) and a seller carry-back loan ($150,000). Montecito Bank & Trust provided SPHA with a construction loan of $1,138,876 and a permanent loan of $1,138,876 to build this Project.

Orchards at Santa Paula Senior Apartments

McCarthy Companies was hired by the Santa Paula Housing Authority as the Construction Manager on this once vacant and abandoned 12,582 square foot one-story 45-bed Assisted Living Center to create a stunning 20-unit Affordable Senior Apartment community. Fountainhead Architects did a fantastic job designing and transforming an institutional-looking building into twenty craftsman-style individual homes with a unique, pedestrian scale and residential appearance. All of the homes are one-story and are designed to accommodate those seniors with disabilities and physical challenges." The Orchards is designed to conform to the Green Communities criteria and the "carbon footprint" of the new community was greatly reduced by salvaging and reusing an existing abandoned building and by replacing old, inefficient mechanical, plumbing and electrical equipment with new, high efficient, Energy Star-compliant equipment, fixtures and materials. The site was landscaped with native plants and trees with an efficient irrigation system, and a raised planting bed will be constructed for the residents to create and maintain their own gardens. The Orchards is a certified Enterprise Green Community, owned and managed by the Santa Paula Housing Authority. This project was at 95% occupancy the very same day construction was completed because the need was so great and tenants were excited to move in.

60 California Street

McCarthy was selected to provide turnkey construction efforts, both preconstruction and construction services for the ground up construction of a 20,000 SF structural steel commercial Class A commercial mixed-use building located in downtown Ventura. Designed by Design Arc out of Santa Barbara, this building is a magnificent addition to downtown Ventura. In 2009, the owners of the building received a "Beautify Ventura Award" for the design and overall improvement the building added to the City. The project was completed on budget ($6,000,000) and on schedule. Project Features: Turnkey services, value engineering, confined jobsite location logistics and conditions, complex underground structural concrete caisson system. Client testimonial - "For the last 2 years I have had the opportunity to work with the McCarthy Companies in the construction of the new 60 California project. We had the opportunity to select from several well-known construction companies in Ventura and LA County. McCarthy Companies consistently impressed us with their planning and financial acumen early in the process. It was a pleasure working with the McCarthy Companies to build our 19,427 SF four-story mixed use commercial building in downtown Ventura. This building was the first Four-Story Mixed-Use Retail/Restaurant/Office Building approved and built in downtown Ventura in over 50 years. The building features elegant architectural design with clean lines and smooth finishes that blend in well with the Ventura aesthetic. It includes an elaborate 6'x15' tile mural in the front lobby, a history of Ventura, 2nd floor pedestrian bridge, 4th floor balcony with ocean views and a light-show in the tower. McCarthy "walks the talk". Honest, reliable, flexible and fair. Characteristics of any one or Company that I would want to work with." - Dan Frederickson, Owner

Ventura Orthopedics

We provided preconstruction and construction services for this modified arched concrete tilt up medical facility. This project was completed on schedule and on budget. Pittman Group Architects and DiCecco Architecture designed the building with large openings of translucent fiberglass panels called a Kalwall glazing system that provides an abundance of soft natural lite. This system is a unique composite fenestration sandwich panel that combines controlled, usable, natural daylight with the ultimate in energy efficiency. Lightweight, shatterproof, and rapidly installed, Kalwall has amazing structural integrity.

Heritage Square Historic Homes

McCarthy acted as a construction manager and contractor in the restoration of several buildings now located in Heritage Square, Oxnard's historic district, which offers a fun trip back in time. The collection of Victorian mansions now hosts activities such as a farmers' markets, concerts, weddings and tours. Shown in the picture: McGrath House (on left) and Petit House (on right). Petit House - Justin and Frances Petit contracted with Herman Anlauf to design their home on Wooley Road in the Oxnard Colonia district for the sum of $8,000. It was completed in 1896 with 7,000 square feet, two staircases, seven entrances, seven bedrooms, two parlors and two maids' quarters. Most bedrooms had outside entrances, which gave gentlemen the option of strolling out to the fields instead of visiting the one bathroom. McGrath House - This Colonial Revival home was built for Martin Laurent and his wife, Annette (Petit) Laurent (Annette was the sister of Justin Petit). After her husband died, Annette owned the home until 1919 and it had various occupants until 1945 when John McGrath purchased the home. In the 60's McGrath had it moved to Wooley Road. Pat McCarthy purchased the home in the early 80's and after living in it for a few years, he ended up cutting the home in two and moving it to Heritage Square where they completed the historic renovation for this building and several others. Some important notes about the home are that the basement, outdoor patio, south extension (near the patio), elevator and rear staircase are not original and were added after its relocation to Heritage Square to accommodate the new restaurant and bar.

Santa Paula Historic Agricultural Museum: The Santa Paula Mill and Depot

The Mill, originally built in 1887 by a fabricated kit, was owned by the Southern Pacific Railroad. It later became a lima bean warehouse. It is now a branch of the Museum of Ventura County which holds vintage farm implements, photographs, journals, wind machines, tractors and other equipment, as well as portrayals of Santa Paula's historic link to farming and the future of agriculture. McCarthy acted as the general contractor who did the complete $2.6M renovation of the building in 2011. Renovations required a towering crane to place the new trusses that were installed at The Mill which required purlin bracing in between the new trusses. The Depot renovation contained foundation work and sheer walls installed in the front of the building that faces 10th Street. Other work includes electrical upgrading and the new exterior paint job, the latter a convoluted process that required experimentation on how best to remove the lead paint, which led to the use of chemicals and heat for stripping.

The Station at Los Alamos

An old historic landmark in Los Alamos California has come alive. Centrally located between San Francisco and Los Angeles, this once "humming with business" gas station established in 1926, fueled the cars of movie stars headed for our beautiful central coast as the film industry, cattle ranches and tourism was a beehive of activity. The garage also kept the local farmers tractors in good repair as they worked the rich soil into bountiful crops. In 2012, new proud owner Sean McGrath hired McCarthy to help pull the historic renovation together to create a new unique location for special events in wine country. Besides the large party building, the property offers a spacious hacienda style courtyard with a large fountain in the corner just inside the Santa Fe style gate, two raised gas fire pits, a raised stage area for entertainment, and an impressive free-standing fireplace made of river rock. Also a gazebo for wedding ceremonies, and a lush green lawn surrounded by succulent gardens, old Sycamore and Olive trees.